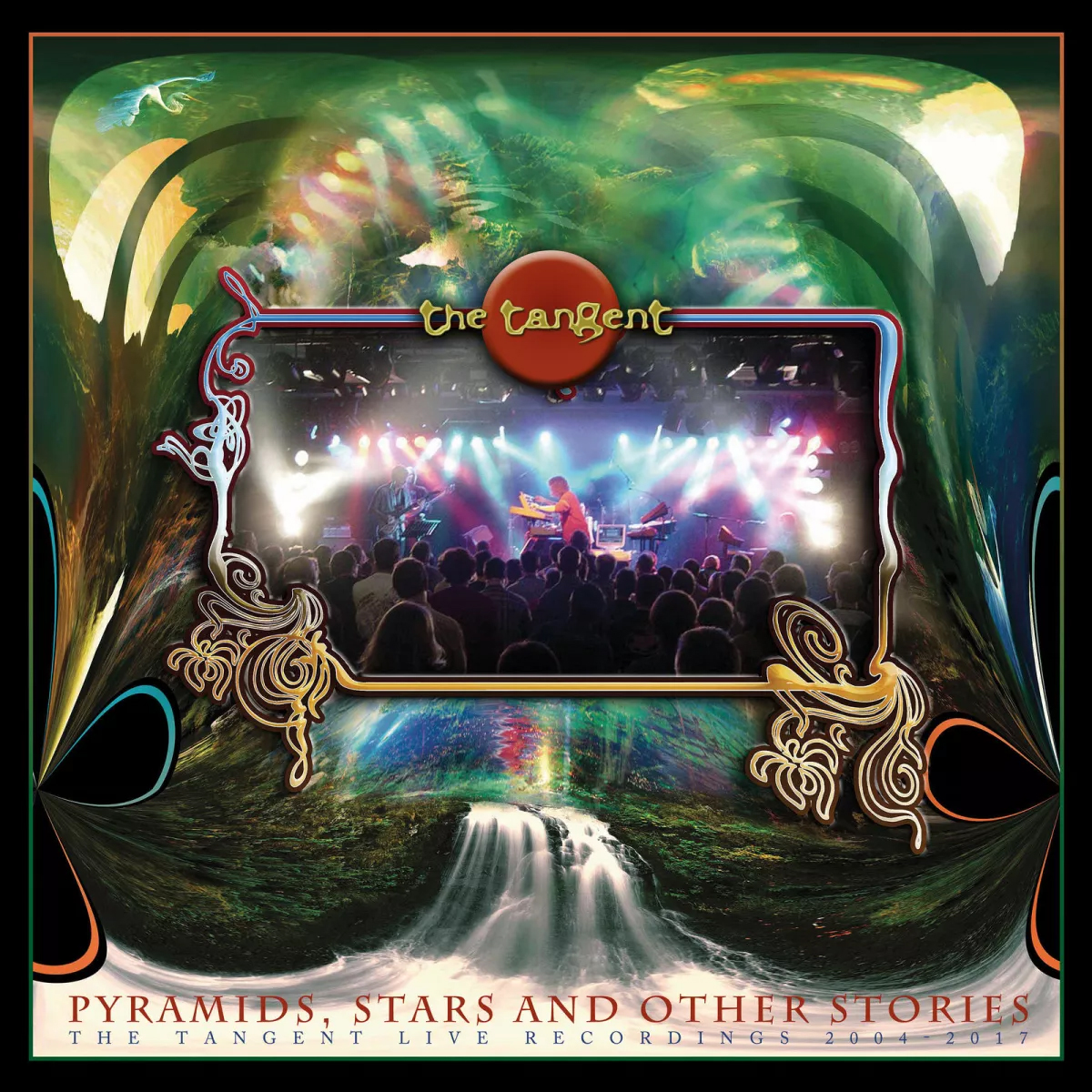 Pyramids, Stars & Other Stories
Welcome to the special Premium Pre-Ordering page
All our Pre-Orders here are at Premium Prices and as always we point out that this album is available at normal prices from major outlets like Amazon, smaller operations like Burning Shed and whatever dealer you prefer.
Buying our pre-orders is the best way to help The Tangent continue making their music.
We offer2 price points. Please remember this is a DOUBLE CD preorder and if you want VINYL click HERE
"Pay The Wages" edition. At 39.99 GBP . Signed Copy, and access to previews of this release AND some new music.
"Tangent Family Member" edition is at 29.99 GBP, a simple signed CD copy
POSTAGE/PACKING is INCLUDED in these prices for ALL destinations
About "Pyramids, Stars and Other Stories".
So here we go...The Tangent is proud to present "Pyramids, Stars and Other Stories".

This is a LIVE COMPILATION of music recorded by the Tangent culled from three previously released and rare fan club releases.

First up - when we say "live" - we mean it. These recordings are all of "what happened on stage" and - to make prog comparisons regarding "quality" (not musical content) are more like "Yessongs" than "Seconds Out". The "Southend" material is more towards "high quality bootleg".

These have all been remastered since the original releases, but only remastered - not remixed.

What's on the album?

Firstly, in celebration of the 20th anniversary of The Tangent we decided to include the complete "Pyramids and Stars" concert. This was recorded in Germany on November 4 2004 and features the original lineup of the live band (Roine, Jonas, Zoltan, Sam and Andy) playing an almost complete performance of their debut album "The Music That Died Alone" - (on the night, for technical reasons "Uphill From Here" failed to be recorded.) Add to that there are 2 substantial tracks from the second album "The World That We Drive Through" - these being the title track and "The Winning Game". A sponataneous version of ELP's "Lucky Man" closes this out.
This complete gig occupies the whole of the first CD and the first FOUR sides of vinyl.

The SECOND CD and Sides 5 & 6 of the vinyl are highlights of two other concerts. These are the Southend On Sea gig in 2011 featuring the UK Tangent lineup, (Andy, Luke, Dan and Funkytoe) and the 2017 "Hotel Cantaffordit" set recorded in New Jersey USA by the current lineup, (Andy Jonas, Luke, Steve with Goran on vocal support).
Included here from Southend are "A Crisis In Mid Life", "Perdu Dans Paris" and "A Sale Of Two Souls" and from the USA "A Spark In The Aether" and "Doctor Livingstone I Presume"

The tracks above fill the whole of sides 5 & 6 of the vinyl edition. Importantly though, the CD edition (INCLUDED WITH VINYL) has two extra tracks one of which is into epic territory.. From Southend is "Titanic Calls Carpathia" and from the USA is "Two Rope Swings".

Sadly, none of these recordings feature Theo who was not present at any of these three concerts. However, it's nice to have Dan and Funkytoe on an Insideout release at last.
The sleeve is by Ed Unitsky, based on his original sleeve for "Pyramids and Stars". The vinyl edition comes as a standard gatefold sleeve with a four page insert. No, it doesn't open twice like Yessongs or "Ladies And Gentlemen"!
OUR PRE-PREORDERS
As usual we'd like to make it clear that our album will be available at a number of price points from being freely included with music streaming services like Tidal, Amazon, Qobuz etc, through to standard "physical product" pricings from Amazon, Burning Shed etc.
Our offers are superficially expensive and are always seen as a way of supporting the band through increasingly difficult times. They are provided for those who wish to aid this band in future music production in a very hostile environment. We do not complain about this environment much and spend our time focussed on making some of the best Progressive Rock Music in the world today. The choice is yours and you are welcome to listen to The Tangent at all price levels and we are always happy that you are listening.
Introducing the GIGAFAN - LIMITED (30) Exclusive Vinyl Edition
EXCLUSIVE VINYL COPIES including item not available anywhere else!
PLEASE NOTE that "names on the CD Booklet" option is now closed - for a very short time we will add your name to the vinyl exclusive booklet

Up until now we have not handled Vinyl from our base. Owing to many requests to have some available we are this time doing a NUMBERS RESTRICTED Premium pre-order. This will be very expensive for us to achieve and the prices are accordingly high. To cut a long sob-story short, this involves us buying a bulk order of expensive items from Germany, having them imported here along with the high postage costs that will incur, then sending mulitple packages which will weigh more than half a kilogram each to destinations all over the world and if just one gets lost in the post we have to send it again at our own expense. In 20 years, not one single mailout has failed to deliver us a couple of "misses"

Therefore - our prices will include tracked mail or courier anywhere in the world that accepts this. We will not send any vinyl without tracking and this is very expensive. It will also include sturdy and professional packing materials.
For this offer we have to create a whole new level... so introducing the Tangent GIGAFAN:
For this option we will be charging 125 GBP. It's eyewatering yes, but with the shipping from Germany to us and from us - plus the price of the items themselves to us - our profit is still very small and ONE failed delivery will cost us the profit from at least two others. Unlike stores and established Vinyl suppliers we don't have any discounted bulk postal services.
What we can do is offer you something exclusive and this is what we'll do if you decide to go ahead with the vinyl purchase which of course is for a TRIPLE VINYL PACKAGE.
1. Andy will sign your album and include a handwritten and unique personal message with the album.
2. Along with the album you will receive a gloss colour booklet that is EXCLUSIVE to this offer. It will include some lyrics, pictures, artwork and written memoirs of the various tours the band has done. This will not be available on any other offer or from any other supplier.
3. Your name will appear in the special booklet just mentioned above. At time of writing the booklet for the CD is already at print and cannot be modified.
4. You will have access to the same folder of music that the CD orders activate... see the CD details.
5. Your copy will be hand numbered and will be one of only 30 that we will sell.
A Plastic wallet version of the CD edition comes as standard with this vinyl edition.
THERE ARE NO COLOURED VINYL OPTIONS FOR THIS ALBUM ANYWHERE. It will only be manufactured in Black.
Buy the Exclusive Vinyl Edition